Nordic Naturals Omega 3-D 8 fl oz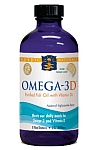 SKU: NN02765
UPC Code: 768990027659
Weight: 1.06



Nordic Naturals Omega-3D Liquid provides an excellent source of omega-3 fatty acids in their naturally existing ratios. Omega-3 fatty acids are needed daily, and must be obtained from our diet. Nordic Naturals Omega-3D Liquid is a great-tasting, fresh, and pure source of omega-3s and vitamin E, along with added vitamin D3 (cholecalciferol). Omega-3s support proper cellular flexibility and cardiovascular health.*

NourishingFoods Price:$22.91
Retail Price: $26.95
SAVE: 15%
Healthy dose of EPA and DHA
1725 mg Omega-3s per one teaspoon
1000 I.U. vitamin D per serving
Meets European Pharmacopoeia Standards
Distilled for purity—no PCBs, heavy metals, or pesticides
Rosemary extract for extended freshness
Great-tasting lemon flavor


Nordic Naturals Omega-3D Liquid provides an excellent source of omega-3 fatty acids in their naturally existing ratios. Omega-3 fatty acids are needed daily, and must be obtained from our diet. Nordic Naturals Omega-3D Liquid is a great-tasting, fresh, and pure source of omega-3s and vitamin E, along with added vitamin D3 (cholecalciferol). Omega-3s support proper cellular flexibility and cardiovascular health.*

Each Teaspoon Provides:
Total Omega-3s: 1725
EPA: 825 mg
DHA: 550 mg
Other Omega-3s: 350 mg
Omega-5: 1 mg
Omega-6: 181 mg
Omega-7: 346 mg
Omega-9: 290 mg
Vitamin E: 30 IU
Vitamin D3: 1000 IU



Suggested Use: One teaspoon daily, with food, or as directed by your health care professional or pharmacist.

Ingredients: purified deep sea fish oil (from anchovies and sardines), natural lemon flavor, d-alpha tocopherol, rosemary extract, vitamin D3 (cholecalciferol in olive oil).

Warning: Consult with your physician before using this product if you are allergic to iodine, using blood thinners, or anticipate surgery. Keep out of the reach of children. Refrigerate after opening.
Nordic Naturals®