Nordic Naturals Omega-3 Gummy Worms 30 Count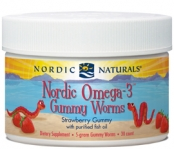 SKU: NN30150
UPC Code: 768990301506
Weight: 0.63



Chewy strawberry fish oil treats for children two years and over. Nordic Omega-3 Gummy Worms are in the natural triglyceride form for optimal absorption.

NourishingFoods Price:$21.21
Retail Price: $24.95
SAVE: 15%
Chewy strawberry fish oil treats for children two years and over.

No artificial flavoring, coloring, or preservatives

Gluten FREE

Yeast FREE

Milk derivative FREE

Easy to chew



Mountain Trolls are the most secretive Trolls—the most anyone has ever seen of one is a bushy tail sticking out from behind a mossy boulder. Every night they emerge from their hidden underground labyrinths to put out baskets of Nordic Omega-3 Gummy Worms™ for the Troll kingdom.
Nutritional Information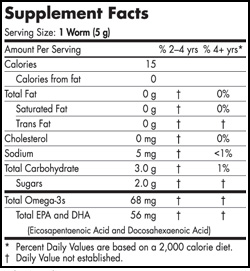 Suggested Use: For 2 years and over, 1 worm daily with food, or as directed by your health care professional or pharmacist. Please ensure child chews each worm thoroughly.

Other Ingredients: Organic tapioca syrup, organic evaporated cane syrup, porcine gelatin, fish oil (from anchovies and sardines), citric acid, lactic acid, natural flavor, natural color (from black carrot juice), organic sunflower oil, carnauba wax Sour Coating: organic sucrose crystals, fumaric acid.

Free of: gluten, milk derivatives, or artificial colors or flavors.

Warnings: Consult with your physician before using this product if you are allergic to iodine, use blood thinners, or anticipate surgery. Keep out of the reach of children.
Nordic Naturals®