NOW Foods Ubiquinol CoQH-CF 50mg 60 Softgels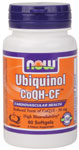 SKU: NW3145
UPC Code: 733739031457
Weight: 0.19
NOW Foods Ubiquinol CoQH-CF 50mg 60 Softgels
1
Average rating:

Write a review
|
Read all reviews
NourishingFoods Price:$17.90
Retail Price: $31.99
SAVE: 44%
Cardiovascular Health
Reduced Form of CoQ10 - 50 mg
High Bioavailability*


NOW® Ubiquinol CoQH-CF contains the reduced form of CoQ10 which has been shown in scientific studies to be a highly bioavailable and active antioxidant form of CoQ10. The addition of d-Limonene to this product naturally improves its solubility, which further enhances intestinal absorption, and thereby provides superior overall biological value. Coenzyme Q10 is present in almost all cells, where it is necessary for mitochondrial energy production. The body's highest concentrations of Coenzyme Q10 (CoQ10) are found in the heart, where constant chemical energy availability is imperative. In addition to its benefits for cardiac function through energy production, CoQ10 also functions as a powerful fat soluble antioxidant, providing protection against free radical attack for vascular structures, as well as for other tissues, including the brain and neurons. NOW CoQ10 products contain only 100% natural, all-trans form of CoQ10 produced by fermentation.
Each Softgel Contains:
Ubiquinol (Kaneka QH) (Reduced Form CoQ10) - 50 mg
Suggested Usage: As a dietary supplement, take 1 softgel twice daily, preferably with meals. We highly recommend taking this product with a source of essential fatty acids such as NOW® Flax Oil, Evening Primrose Oil, Borage Oil or Omega-3 Fish Oil.

Other Ingredients: Softgel Capsule (gelatin, glycerin, water, natural caramel color), d-Limonene, Caprylic Acid, Capric Acid and Alpha Lipoic Acid.

Contains No: sugar, salt, starch, yeast, wheat, gluten, corn, soy, milk, egg, shellfish, polysorbates, preservatives or titanium dioxide.
NOW Foods Ubiquinol CoQH-CF 50mg 60 Softgels
1
Average rating:

Write a review
|
Read all reviews
Featured positive reviews:
NOW Foods Ubiquinol CoQH-CF 50mg 60 Softgels

Ubiquinol CoQ 10
03/27/2020
Good product!
Get yours from
NOURISHING FOODS
GREAT PLACE TO BUY ALL
YOUR SUPPLEMENTS