NOW Foods Omega 3-6-9 100 Softgels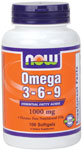 SKU: NW1835
UPC Code: 733739018359
Weight: 0.5
NOW Foods Omega 3-6-9 100 Softgels
1
Average rating:

Write a review
|
Read all reviews
NourishingFoods Price:$7.85
Retail Price: $13.99
SAVE: 44%
Essential Fatty Acids
Supports Cardiovascular Health*
Hexane Free Nutritional Oils


NOW Omega 3-6-9 250 Softgels provides a balanced blend of two essential polyunsaturated fatty acids (and their derivatives) necessary for many body functions: Omega-3 oil from Flax Seed and Canola, and Omega-6 oil (GLA) from Primrose and Black Currant. Oleic Acid, an Omega-9 oil from Canola and Flax Seed, is a monounsaturated fat not considered "essential" but does play beneficial roles in human health.

From the FDA's website: "Consumption of omega-3 fatty acids may reduce the risk of coronary heart disease. FDA evaluated the data and determined that, although there is scientific evidence supporting the claim, the evidence is not conclusive (see nutrition information for fat content)".
2 Softgels Contain:
Flax Seed Oil (cold pressed, organic) (Linum sitatissimum) (seed) - 1400 mg
Evening Primrose Oil (cold pressed) (Oenothera biennis) (seed) - 300 mg
Canola Oil (cold pressed) - 260 mg
Black Currant Oil (Ribes nigrum) (seed) - 20 mg
Pumpkin Seed Oil (Cucurbita pepo) (seed) - 20 mg



Suggested Usage: As a dietary supplement, take 2 softgels 1 to 3 times daily with meals. Consider taking this product in combination with NOW® Tru-E BioComplex, CoQ10 and Alpha Lipoic Acid.

Other Ingredients: Softgel Capsule (gelatin, glycerin, water, carob).

Contains no: sugar, salt, starch, yeast, wheat, gluten, corn, soy, milk, egg, shellfish or preservatives.

Each serving may also provide the following naturally occurring amounts of polyunsaturated fats and monounsaturated fats:
Omega-3 oils: Alpha Linolenic Acid (ALA) - 900mg
Omega-6 oils: Linoleic Acid and Gamma Linolenic Acid (GLA) - 530mg
Omega-9 oils: Oleic Acid - 350mg
Other oils: Short chain fatty acids, saturated fats, phospholipids, etc. - 220mg
NOW Foods Omega 3-6-9 100 Softgels
1
Average rating:

Write a review
|
Read all reviews
Featured positive reviews:
NOW Foods Omega 3-6-9 100 Softgels

Omega 3-6-9
03/27/2020
I'm very satisfied with this product.
I've taken it for several years. Better
than omegas from fish - NO FISHY AFTERTASTE
OR BURPS. Good product!!