NOW Foods Red Yeast Rice with CoQ10 120 Vcaps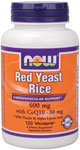 SKU: NW3334
UPC Code: 733739033345
Weight: 0.5
NOW Foods Red Yeast Rice with CoQ10 120 Vcaps
1
Average rating:

Write a review
|
Read all reviews
NourishingFoods Price:$28.00
Retail Price: $49.99
SAVE: 44%
Red Yeast Rice is a unique natural product native to China that's been used in Asian traditional medical systems since approximately 800 A.D. It is produced by the fermentation of red yeast (Monascus purpureus) with white rice. NOW® Red Yeast Rice Extract is carefully produced to avoid the presence of citrinin, a sometimes toxic by-product of the fermentation process. This product is further enhanced with the addition of CoQ10 to support healthy cardiovascular and immune system function, Milk Thistle Extract to support healthy liver function, and Alpha Lipoic Acid to provide antioxidant support.*

This product and all other NOW Foods Red Rice products are safe and available for purchase. NOW Foods Red Yeast Rice products are not affected by the recent warning that was placed on some competitive brands.
2 Capsules Contain:
Red Yeast Rice (Monascus purpureus) (Concentrated (10:1) Powder) - 1.2 g (1,200 mg)
Milk Thistle (Silybum marianum) Standardized Extract (min. 80% Silymarin) - 210 mg
Alpha Lipoic Acid - 100 mg
CoQ10 (Coenzyme Q10) (as Ubidecarenone) - 60 mg
Suggested Use: As a dietary supplement, take 2 Vcaps® 1-2 times daily, preferably with meals.

Free of: sugar, salt, wheat, gluten, corn, soy, milk, egg or preservatives.

Other Ingredients: Cellulose (capsule), Stearic Acid (vegetable source) and Silica. Vegetarian Formula.

Warnings: Caution: Not intended for pregnant or lactating women. Individuals with liver disease or those currently taking any medications should consult with a health practitioner prior to use.
NOW Foods Red Yeast Rice with CoQ10 120 Vcaps
1
Average rating:

Write a review
|
Read all reviews
Featured positive reviews:
NOW Foods Red Yeast Rice with CoQ10 120 Vcaps

Safe & effective for Cholesterol control
02/10/2009
I became very ill from taking Vytorin for elevated cholesterol levels. I now have taken this product for 2 years and have safely controlled my cholesterol without taking prescription medication.