NOW Foods Wheat Grass Powder 9 Ounces (255g)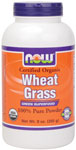 SKU: NW2710
UPC Code: 733739027108
Weight: 0.81
NOW Foods Wheat Grass Powder 9 Ounces (255g)
1
Average rating:

Write a review
|
Read all reviews
NourishingFoods Price:$11.20
Retail Price: $19.99
SAVE: 44%
Certified Organic. Green Superfood Powder. A whole food grown and processed on fertile organic Kansas soil. Dehydrated whole leaf Wheat Grass includes the natural juice and fiber found in Wheat Grass.
1 Tablespoon (10.5 g) Contains:
Potassium - 340 mg
Total Carbohydrate - 4.0 g
Dietary Fiber - 2 g
Protein - 2 g
Vitamin A (100% as Beta-Carotene)
Vitamin C
Iron
Riboflavin



Suggested Usage: As a whole food, mix 1 TBSP in 8-12 oz. of water, fruit or vegetable juice. This amount provides the nutritional equivalent of a dark green leafy vegetable salad. Consider taking this product in combination with NOW Detox Support and Probiotic Defense.

Ingredients: Organic Wheat Grass Powder. 100% Pure.

Contains no: sugar, salt, starch, yeast, corn, soy, milk, egg, shellfish or preservatives.

NOW Foods Wheat Grass Powder 9 Ounces (255g)
1
Average rating:

Write a review
|
Read all reviews