Pain & Stress Center Brain Link Complex 18 oz (514 g) Powder
NourishingFoods Price:$38.95
Retail Price: $39.95
SAVE: 3%
Pain & Stress Center Brain Link Complex A Total Neurotransmitter Complex

For Everyone Ages 2 to 100

Brain Link is an amino acid complex that creates the neurotransmitter link (chemical messengers) for enhanced brain function.

Brain Link is 18 ounces of great tasting powder that mixes with any juice.

Brain Link is perfect for children and adults and can be used 1 to 3 times daily as needed.

Brain Link contains the major inhibitory neurotransmitters, GABA, Glutamine, and Glycine. No other formula is this complete.

Brain Link contains 3000 mg (per 6 scoops) of the memory amino acid, Glutamine. Research has established glutamine is effective when used by adults and children to help with memory and concentration or addictive behavior.

GABA is the anxiety amino acid that is needed on a daily basis.

Glycine, an inhibitory neurotransmitter, helps those with constant sugar cravings as well as helping to regulate stress levels.

Brain Link is a total formula for daily use, and can be used in conjunction with all other supplements. Brain Link was formulated by Dr. Billie Sahley, and is the most complete neurotransmitter formula available on the market today.

Brain Link is perfect for all ages, 1 to 100. Brain Link provides nutrients which are necessary for the production of neurotransmitters which helps your brain communicate more effectively.

Brain Link tastes great and is good for all ages, 1 to 100.

No other brain formula compares to Brain Link's Total Neurotransmitter Complex.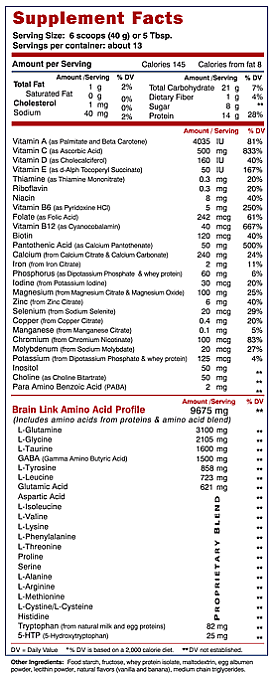 Suggested Use: Shake can prior to each use, then blend one heaping scoop three times daily (6 scoops = 40 g) in 8 ounces of juice or as directed by a health care professional. By weight, children/adults up to 75 lb. —2 scoop; 75-120 lb.— 4 scoops; over 120 lb.— 6 scoops.