Pain & Stress Center L-T® L-Theanine 100 mg 60 Capsules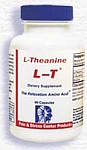 SKU: PSC21060
UPC Code: 648046210603
Weight: 0.13



L-Theanine produces a tranquilizing effect in the brain without causing drowsiness or dull feelings. Studies reflect L–T increases alpha waves in the brain that produces muscle relaxation and decreases stress-tension pain.

NourishingFoods Price:$17.50
Retail Price: $18.95
SAVE: 8%
L-T® (Theanine or L-Theanine)


L–T is the major free-form amino acid found in green tea leaves.

L–T produces a tranquilizing effect in the brain without causing drowsiness or dull feelings. Suntheanine in L-T creates an alert, yet totally relaxed state of mind.

L–T has a major role in the formation of the inhibitory neurotransmitter GABA.

L–T readily crosses the blood brain barrier and changes brain chemistry in a way that compares to a deep meditative state. Studies demonstrate theanine is a safe, non-toxic, highly effective amino acid that creates alpha waves in the brain, producing muscle relaxation and decreasing stress-tension-pain.
L–T (L-Theanine):
Has no side effects and is effective with the first capsule taken.†
Is clinically proven to reduce stress, improve quality of sleep, diminish symptoms of PMS, reduce negative effects of caffeine.
Duration of use is not limited, and can be taken daily.†
Research studies confirm L-T's safety, evidenced in green tea consumption throughout the ages.†
Has no cautions or drug interactions with the exception of certain chemotherapy agents whereby it enhances the chemotherapy effects.
If you are receiving chemotherapy, check with your doctor.
L-T is not recommended in pregnant or lactating women.†
Is 99.7% pure pharmaceutical grade.†


Nutritional Information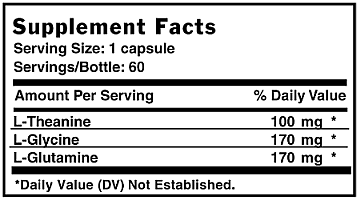 Directions: As a dietary supplement, ages 12 & up take one capsule (2 if needed) daily, divided, or as directed by a healthcare professional. Capsules may be opened into water or juice for faster absorption.

Other Ingredients: Gelatin capsule.

CAUTION: Do not take Mood Sync with SSRIs, MAO, tricyclic or other antidepressant prescription medications, if you have a history of melanoma, pregnant or lactating. Always check with a pharmacist. May cause drowsiness.
Pain & Stress Center Products®