Pain & Stress Center Mood Sync® 60 Capsules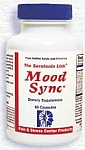 SKU: PSC05060
UPC Code: 648046050605
Weight: 0.25



Mood Sync®, the Seratonin Link® contains 5-HTP and amino acids that are precursors for the formation of vital neurotransmitters (chemical language of the brain) including serotonin and dopamine in the brain. A safe alternative to SSRIs and prescription drugs.

NourishingFoods Price:$16.95
Retail Price: $18.50
SAVE: 8%
The Serotonin Link®

Mood Sync is a complete neurotransmitter formula with 5-HTP, A Safe Alternative for mood support.


Serotonin is the link between anger, aggression, depression, and anxiety. Stress depletes serotonin.†

5-HTP in our Mood Sync formula is converted to serotonin in the brain.†

Serotonin is the master neurotransmitter and major influence on mind, mood, memory, and behavior. Serotonin decreases the craving for carbohydrates and helps us keep a positive mood.†

Mood Sync is more effective than the brain supplement SAMe because it creates needed neurotransmitters in the brain.†

Mood Sync was researched and developed by Dr. Billie Sahley for today's stressful life-style.
Mood Sync's special formula contains:
Tyrosine an amino acid that provides dopamine and norepinephrine.
GABA the anxiety amino acid.
Glutamine supports focus and concentration.
Taurine an amino acid needed by body in times of stress
5-HTP - The Serotonin Link® - serotonin is a neurotransmitter that
influences your mood, and puts you in control.
B6, a necessary cofactor that activates amino acids.


Nutritional Information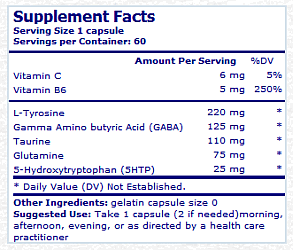 Directions: As a dietary supplement, take one capsule (2 if needed) in the morning, afternoon and evening or as directed by a healthcare professional.

Other Ingredients: Gelatin, water.

CAUTION: Do not take Mood Sync with SSRIs, MAO, tricyclic or other antidepressant prescription medications, if you have a history of melanoma, pregnant or lactating. Always check with a pharmacist. May cause drowsiness.
Pain & Stress Center Products®