Pain & Stress Center Sleep Link® 60 Capsules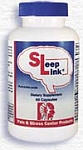 SKU: PSC28060
UPC Code: 648046280606
Weight: 0.25



Pure amino acids. Sleep Link® offers cutting edge neuro-nutrients that send signals to the limbic system in the brain to release stresses of the day. This allows you to sleep peacefully and relaxed, awakening refreshed and positive. For occasional sleeplessness.

NourishingFoods Price:$22.95
Retail Price: $24.95
SAVE: 8%
Sleep Link®

The Ultimate Sleep Formula - for Occasional Sleeplessness.


Most Americans do not get enough sleep. According to the National Sleep Foundation, at least 50% of people have insomnia or problems sleeping.

Sleep Link is a solution to help you obtain the needed, restful sleep your brain and body requires for healing and repairs.†

The active ingredients in Sleep Link are a special class of unique neuro-nutrients that act as precursors to inhibitory neurotransmitters. These neuro-nutrients send signals to the limbic system where all emotions are stored. As levels are restored, you enjoy a restful night sleep and awaken feeling positive and relaxed. Sleep disorders occur when several brain chemicals become out of balance due to stress/anxiety, or depression.†

Sleep Link restores the chemical balance and allows you to sleep through the night.

Melatonin combined with 5-HTP will balance the circadian rhythm and elevate the brain to download the days stress to relax. Melatonin helps you get into a relaxed, deep sleep quickly.†

GABA cools the brain and shuts down the emotional loaded limbic system.†

L-Theanine creates alpha waves in the brain and sends a message to relax and let go. L-Theanine reduces muscle tension so you can sleep restfully.†

Passion Flower is a sedative-hypnotic herb that prepares the brain and body for sleep.†

Ashwagandha, a traditional Indian medicinal herb, acts as a sedative and induces relaxation and calming.†

GABA, Glutamine, and Glycine are all inhibitory amino acids (neurotransmitters) that act directly on the limbic system.† Glutamine Glycine.

P5'P (B6) is a needed cofactor to activate amino acids.† About P5'P.

Sleep Link is your ultimate sleep formula and restorative brain supplement.†

Try Sleep Link if you are awake all night, can't sleep, not sleeping through the night, light sleeper, can't get enough shut eye, wake up during the night, feel drowsy, fall asleep during the day, or have sleeplessness or disturbances in your sleep-wake-cycle, circadian rhythm.
Nutritional Information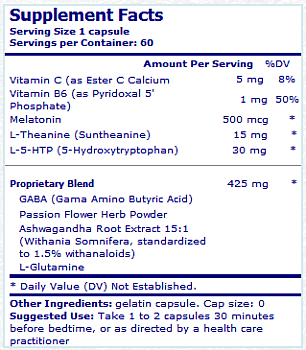 Directions: As a dietary supplement, take one capsule (up to 2) capsules 30 minutes prior to bedtime as needed, or as directed directed by a healthcare professional.

Other Ingredients: Gelatin capsule, silicon dioxide, and magnesium stearate.

CAUTION: Use only as directed. If you are pregnant, nursing, taking SSRIs, MAO, tricyclic or other antidepressants, or have any medical condition, consult your doctor or pharmacist before using this product. Do not use with any other sleeping medication.
Pain & Stress Center Products®